HHS Choirs Share Love Through Singing Valentines
HUTCHINSON, KS - Instead of sending flowers for Valentine's Day, some chose to say "I love you," through music this year. The Hutchinson High School Expressives and Harmonics shared messages of love with the community with Singing Valentines on Tuesday, February 14, 2023.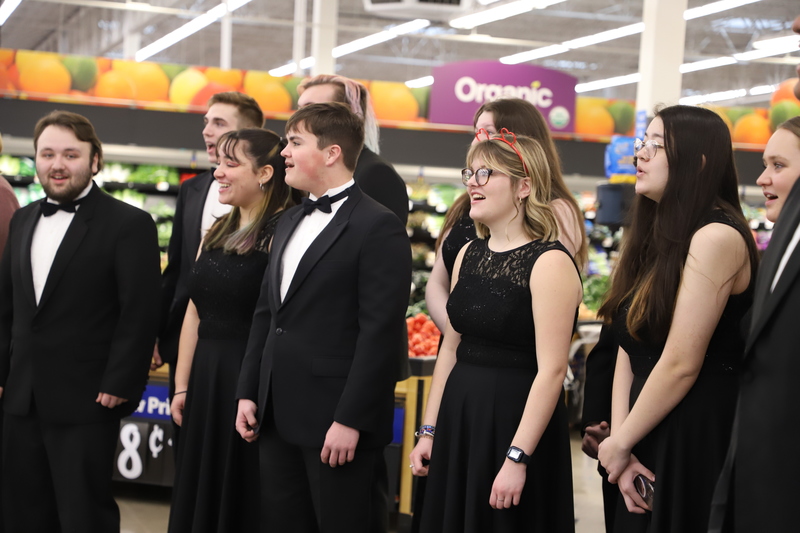 For the last seven years, HHS choir director Roger Wilson has opened up Singing Valentines to the Hutchinson community as a fundraiser for the school's vocal program. On Valentine's Day, students travel to locations across Hutchinson to surprise individuals with love songs. It was a full day of serenading this year, with 40 total Valentines delivered.
The two vocal groups practice in the weeks leading up to Valentine's Day, and have a repertoire of love songs they use for their Singing Valentines. This year those songs included "Seasons of Love" from the musical Rent, and "The Longest Time" by Billy Joel.
"The kids love singing and after we announced it this year spots filled up within 10 minutes. It's big every year," said Wilson.
Amber Carithers, English Language Arts teacher at Hutchinson High school, received a Singing Valentine, sent by her husband.
"It was wonderful receiving a singing Valentine, especially from so many of my own students. I love seeing my students in their element," said Carithers.
Becki Ackley is a 4th grade teacher at Wiley Elementary, and also received a Singing Valentine.
"Having the Expressives come to my classroom to deliver a Singing Valentine today was so fun! I was an Expressive at HHS a long time ago, so it's special to receive a singing valentine from them. They did an amazing job!" said Ackley.