Today: HHS varsity boys' golf is at McPherson's Turkey Creek Golf Course at 2 p.m. while JV golf is at Salina Municipal at 3. Varsity boys' tennis is at South Barber High School in Kiowa at 3 while JV tennis is at Ellsworth at 3. C-Team baseball hosts Andover in double headers at 4. Girls' soccer hosts Valley Center at 5 on the Salthawk Sports Complex pitch. #308pride

HHS track is at Junction City today at 3:30. Varsity/JV softball hosts Goddard Eisenhower at 4 at Fun Valley. Varsity baseball hosts Eisenhower at 4 at Hobart-Detter while JV host Eisenhower at 4 at Rice Park. #308pride

No school Friday for the spring holiday. #308pride

HMS boy's tennis is in a double-dual today at Salina's Oakdale Park at 12:30 p.m. Soccer, meanwhile, travels to Prairie Hills for a game at 4 p.m. #308pride

Wiley group pictures are on Thursday. #308pride

HHS girls' soccer is in the Titan Classic again today and Saturday. #308pride
HMS-7 and HMS-8 are teaming together for this year's fundraiser. We are using a new method to raise funds for our schools and need your help. You should have received an email with your students personalized donation page. Please help us by sharing those pages through text, email and through social media. Lets make this fundraiser the best one yet!
https://hutchms2021.pledge-drive.net/Campaign/Details/1933

Lincoln has dental screenings Wednesday and Thursday. #308pride

HMS at Allen has civvies day on Wednesday. #308pride

HHS girls' swimming hosts an invitational today at 3:30 in the YMCA. HHS varsity baseball hosts Wichita South in a double header at 4 at Hobart-Detter. HHS varsity/JV softball hosts Wichita South at 4 at Fun Valley. #308pride

HHS girls' soccer is in the Titan Classic at Wichita Southeast today while boys' JV golf is at an invitational at Great Bend. #308pride

McCandless has dental screenings Monday and Tuesday. #308pride

Set your alarms now. Classes resume in the morning! #308pride

HHS girls' soccer hosts Buhler today on the Salthawk Sports Complex competition field. JV begins at 5 with varsity thereafter. #308pride

HHS is excited to be able to offer our students a learning opportunity during the summer for students to recover credits and skills! We will have two three-week sessions that will have two classes a day. Session 1 runs June 7-24 and Session 2 will be from July 6-22. Classes are 8:00am-11:00am and 11:30am-2:30pm. Classes will meet Monday through Thursday every week except July 5-9. We'll meet Tuesday through Friday that week due to the Independence Day holiday. Breakfast and lunch will be provided for free for students attending the Salthawk Summer Learning program. Please contact Mr. Sawyer (620-615-4116 or
sawyer.kyle@usd308.com
) if you are interested in your student attending.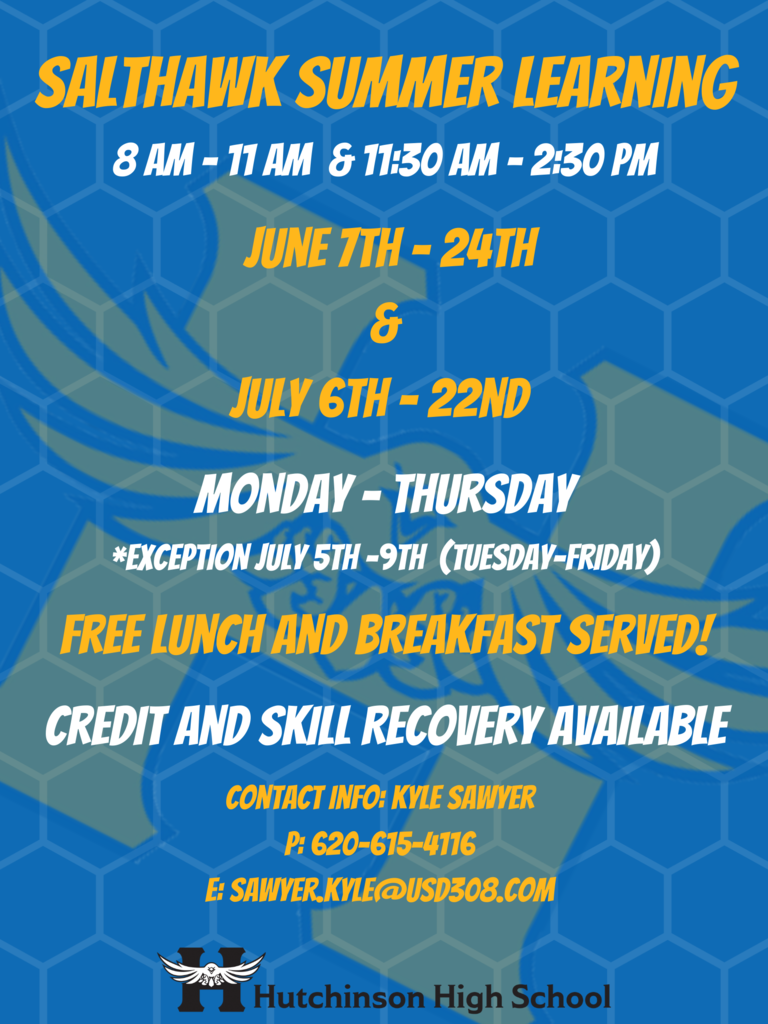 Boys Tennis, Soccer, and Track will be taking team pictures tomorrow. If you'd like to purchase individual or team pictures please remind your student to bring their order form.

The USD 308 Board meets in special session later today to talk about personnel matters. Meeting is at 5:30 p.m. in the Hutchinson Career and Technical Education Academy. #308pride

Come join us for Hutchinson High School Spring Sports Night on Tuesday, March 16, at 6:30 p.m. in the Salthawk Activity Center. Doors open at 6:15 and athletes will be fed for free. *Spring Team Introductions *Games, Drawings, Giveaways *Special Speakers Parent meetings immediately following.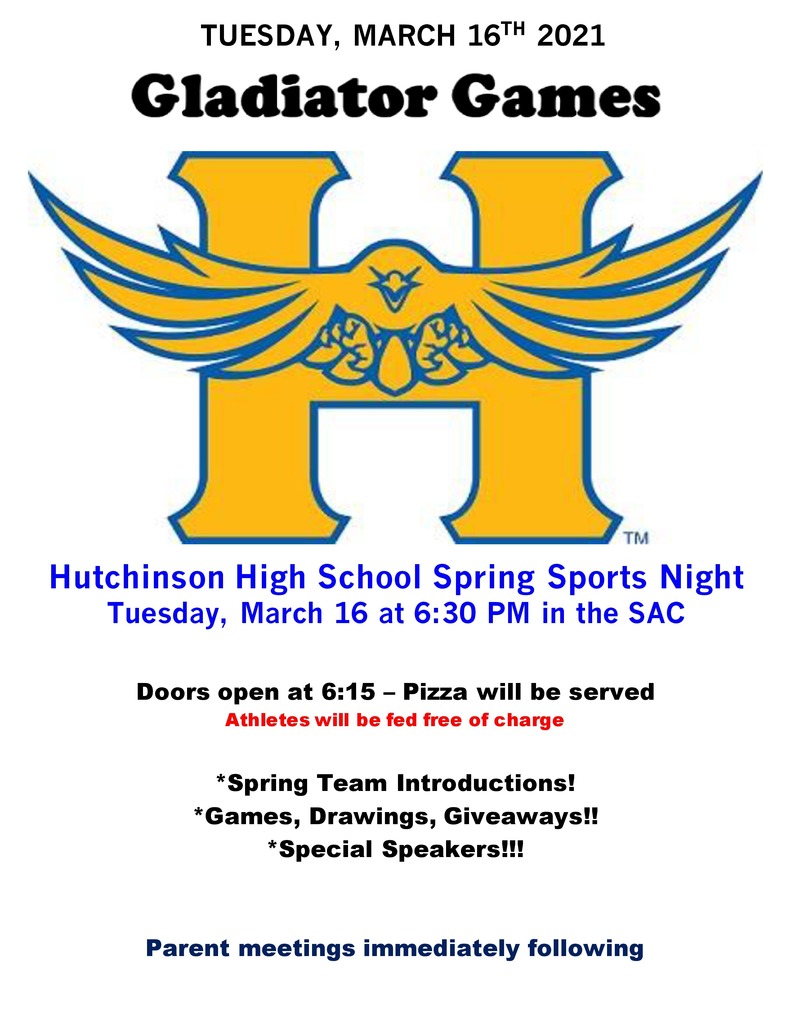 Hutchinson Magnet School at Allen and Faris Elementary School will have spring pictures on Friday (3-12-21). #308pride

HMS-7 will have dental checks on Thursday (3-11-21). #308pride